Magic Spun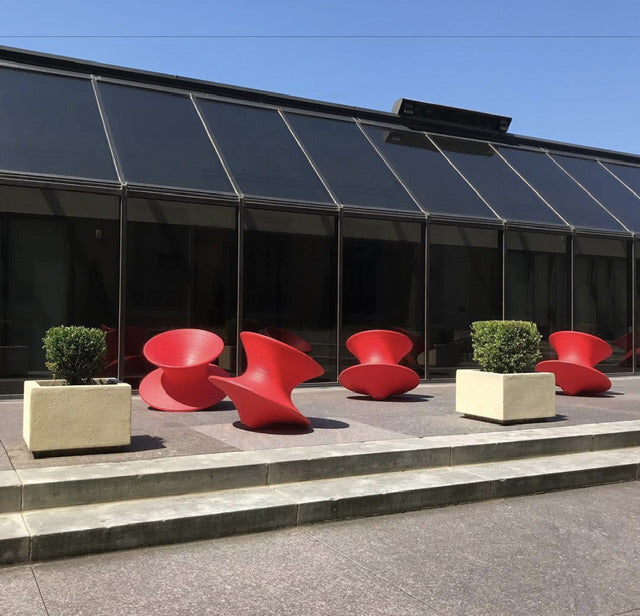 Magis Design Spun: The Perfect Combination of Aesthetics and Functionality
In the world of designer furniture, Magis is a name synonymous with innovation, quality and timeless beauty. One of the most striking creations from this leading brand is the Magis Design Spun. This unique piece combines aesthetics and functionality in a way that is both intriguing and practical.
What makes the Magis Design Spun so special? The answer lies in its unusual design. This swivel chair may seem simple at first glance, but upon closer inspection you will see that it is actually a complex geometric construction. It consists of a single piece of plastic that has been expertly formed into an elegant, twisted shape.
The rotating movement of the chair not only gives it a dynamic appearance, but also offers functional benefits. By simply turning, the user can easily orient himself in different directions, allowing him to make optimal use of his environment. Whether you want to enjoy the view out the window or communicate with people on different sides of the room, with the Magis Design Spun you are always flexible.
In addition to its functional aspects, this chair also has an aesthetic appeal that is difficult to ignore. The smooth lines and organic shape create visual interest and make it a real eye-catcher in any room. Whether used as a statement piece in the living room or as a unique accent in the study, the Magis Design Spun is guaranteed to add style and elegance to any environment.
Moreover, this swivel chair is available in different colors, making it easy to adapt to your personal taste and interior. Whether you prefer vibrant, bold shades or prefer subtle, neutral colors, there's an option to suit your style.
But the design of the Magis Design Spun is not just about appearance. It also focuses on comfort and durability. The chair is ergonomically shaped to provide optimal support to the body, making sitting comfortable for long periods of time. Moreover, it is made of high-quality materials that can withstand daily use and last for years.
The Magis Design Spun has already won many design awards and is recognized worldwide as a groundbreaking piece of furniture that brings art and functionality together. It is loved by professionals and design enthusiasts alike for its unique character and versatility.
Whether you're looking for a statement piece for your home or functional furniture for a business environment, the Magis Design Spun is definitely worth considering. It is a masterpiece of design that is not only visually appealing, but also practical and durable. With this chair you add a touch of elegance to any room, while enjoying optimal comfort and functionality.
So what are you waiting for? Discover the beauty and craftsmanship of the Magis Design Spun for yourself and experience the perfect combination of aesthetics and functionality in your own interior.
---